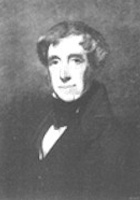 Clement Clark Moore c. 1850
Clement Clark Moore never really understood what all the fuss was about. He just did not get it. Moore[1779-1863] was a writer and American Professor of Oriental and Greek Literature, as well as Divinity and Biblical Learning, at the General Theological Seminary of the Protestant Episcopal Church, in New York City. Moore graduated from Columbia College (1798), where he earned both his B.A. and his M.A.. The seminary was developed on land donated by Moore and it continues on this site at Ninth Avenue between 20th and 21st streets, in an area known as Chelsea Square.
Moore's estate, named
Chelsea
, was on the west side of the island of Manhattan above Houston Street, where the developed city ended at the time. It was mostly open countryside before the 1820s. It had been owned by his maternal grandfather Maj. Thomas Clarke, a retired British veteran of the French and Indian War.
Although a professor, Moore occasionally wrote poetry for special family occasions to amuse his wife and children. On December 24, 1822 he promised 6 year old daughter, Charity a special Christmas poem. In about 2 hours he wrote one of the best known poems in American History.
The poem, Moore titled, "A Visit from St. Nicholas" is largely responsible for the conception of Santa Claus from the mid-nineteenth century to today, including his physical appearance, the night of his visit, his mode of transportation, the number and names of his reindeer, and the tradition that he brings toys to children. Moore thought nothing of it, until the next year the poem was published in the Troy, New York, Sentinel newspaper. Moore was horrified. It turned out daughter, Charity had let a cousin copy "her poem" and then a friend of the cousin had sent the poem into the newspaper anonymously. At a time when children's literature was generally frowned on, especially by college professors, Moore was worried what his colleagues would think of his poetry. Moore swore his family to secrecy and watched for the next 15 years as the poem was published in newspapers and magazines throughout the United States. Finally in the late 1830's when other people began to make claims as being the author of the poem, Moore finally stepped forward and admitted he had written the poem himself. Although praise was heaped upon him, Moore thought his scholarly work was much more important. Moore was asked numerous times to write the poem out in his own hand but he almost always refused, and only 3 copies are known to exist. Moore finally included the poem under his name for the first time in 1844 in a book he was editing on New York State poetry. In the book's preface Moore summed up his thoughts about the poem, "It was a mere trifle", Moore wrote," one which had been found to afford far greater pleasure, than what was by myself deemed of worth".